With many health systems struggling to meet patient demands, and public expectations higher than ever; helping users easily find providers with availabilty is essential. That's why Sparkle Match was developed in partnership with leading hospital systems – to deliver frictionless provider selection and instant appointment scheduling into existing healthcare websites and apps.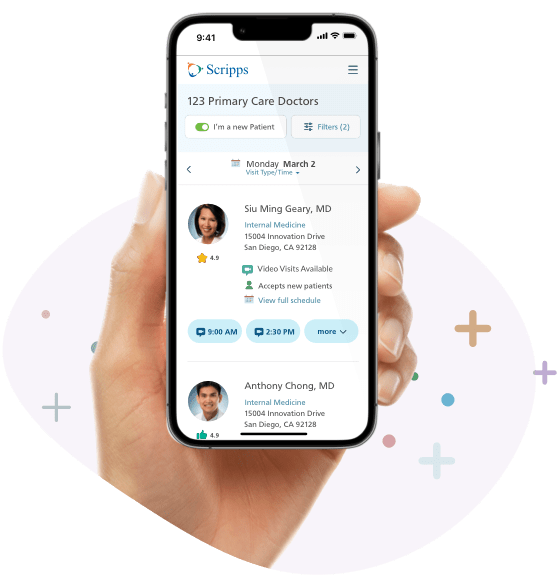 Sparkle's intuitive interface uses each provider's specialties, availability, office location, accepted insurance, and more to find the best match for every patient.
Each provider's availability is updated in real time with in-person or virtual appointments booked directly into the Electronic Health Record.
Unique benefits that empower organizations.
Increased Patient Conversion
Provider Data Hub
SEO Benefits
HIPAA Compliance
Connected Credentialing
CRM Data Pipeline
Epic Data Sharing
Campaign Integration
Advanced Reporting
Identity Matching
Smart Appointment Distribution
Stakeholder Balancing
User-friendly features your patients will love.
Award-winning Usability
Virtual Visit Support
Insurance Eligibility
Advanced Filtering
Map View
Search by Availability
Videos, Ratings, and Reviews
Specialty Mapping
Provider Groups
New & Returning Patient Workflows
MyChart Account Creation
Flexible Scheduling
Deep integration with 100s of services you depend on.
Sparkle Match is built for flexibility, with out-of-the-box connections to EHR and CRM software like Epic and Salesforce Health Cloud, as well as numerous sources of credentialing data, patient reviews & surveys, clinical taxonomy, insurance eligibility, compliance, analytics, and more.
Ready to find out if Sparkle Match is right for your organization?
Build incredible healthcare websites, mobile apps, and campaigns that automatically track marketing ROI.
A best-in-class doctor finder that helps your patients select and schedule appointments with their ideal provider.
The communication hub that helps call center agents, managers, and clinicians organize around patient journeys.