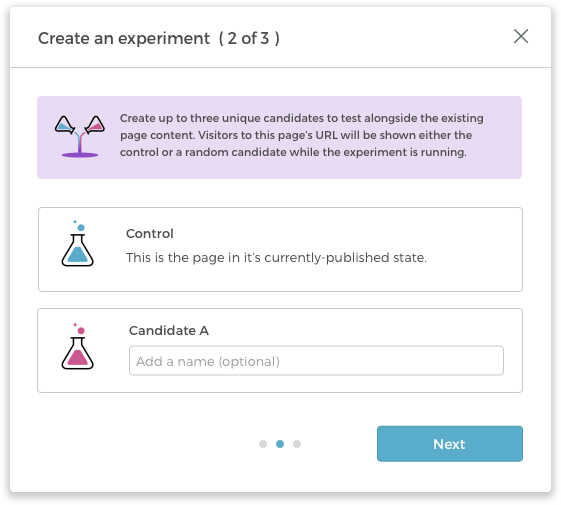 Optimize with confidence.
Sparkle is the only platform with A/B testing seamlessly built into it's content creation tools, so you don't have to let guesswork drive your marketing message. Generate candidates by changing an existing page or campaign – revise a headline, swap out an image, or adjust a call-to-action. Sparkle can optimize pages automatically, so managing experiments is effortless. Quickly create candidates for each of your ideas and let Sparkle pick the best one based on performance metrics like phone calls, form submissions, watched videos, or clicked links.
Unlike any other CMS, Sparkle seamlessly integrates Call Tracking into your content. Call tracking can be enabled in just seconds, and works anywhere with any phone number. It lets you measure call conversions from your marketing campaigns and visualize results through built-in analytics. You can even record tracked calls or analyze searchable transcripts to help improve your marketing message and overall patient experience. Tracked numbers can be routed through a Call Center to collect additional patient information, which is passed along to your CRM.
Can your website convert campaign clicks into leads, then deliver them into your EMR application as new patients? Sparkle works with systems like Epic™ to access provider availability and offer integrated appointment booking in our doctor finder, as well as sophisticated reporting to measure real patient acquisition cost.
Search Engine Optimization
Pages built with Sparkle consistently rank among the very top search engine results. Intelligent SEO tools enforce best practices and let your team build content that naturally captures relevant keywords. Achieve the highest PageSpeed score, while semantic content, sitemaps, and structured data effectively leverage Google's knowledge graph.
Does your CMS talk to your CRM? Only Sparkle offers bi-directional Salesforce integration out-of-the-box without costly setups. Automatically generate leads from conversions, sync your campaign data, process event sign-ups and even manage subscriber lists and email campaigns through Salesforce Marketing Cloud.
Sparkle is maintained with stringent security standards and meets or exceeds all OWASP requirements for server security. Sites built with Sparkle are secure and utilize encryption everywhere by default. All systems are fully HIPAA-compliant allowing you to collect sensitive patient data.
Data in Sparkle is 100% portable and can be exported to a wide range of applications. Users can customize datasets anywhere in the system and export them directly to Microsoft Excel. Every entity features JSON and XML APIs for broad interoperability with other services, websites, and clinical applications.
Build amazing hybrid apps for iOS and Android by combining a native application interface with the same responsive web content that drives your mobile site. These apps can be set up quickly, are incredibly easy to maintain, and consistently receive high customer ratings for performance and usability.