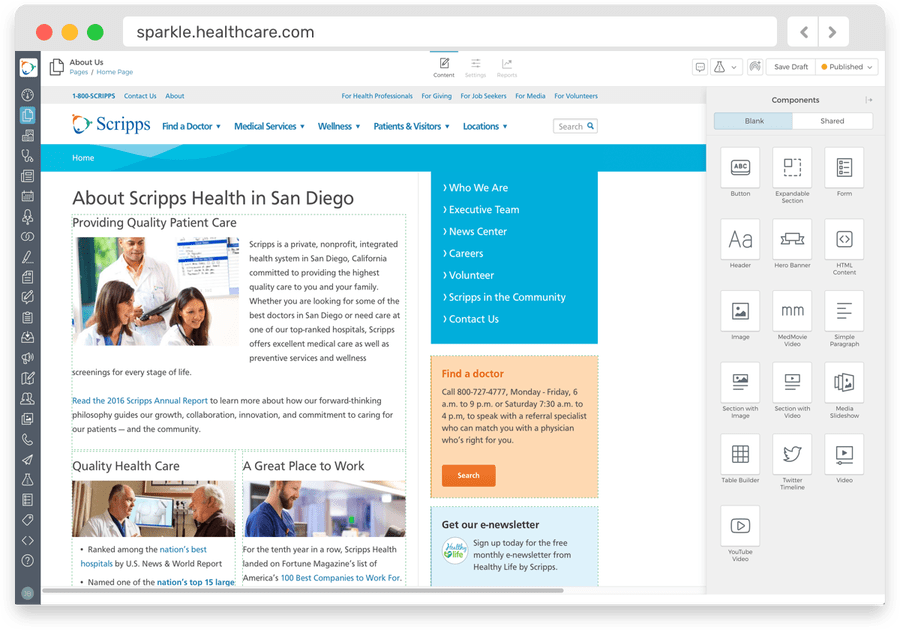 Build perfect pages with drag-and-drop simplicity.
Whether creating layouts from scratch or working with existing templates, Sparkle's visual page builder makes building content a breeze. Simply drag text, images or videos onto the page and freely arrange your components to build engaging experiences without the help of designers. The flexibility offered by this system means your team can quickly produce beautiful content, and collaborate with ease.
Formatting at your fingertips.
Make HTML tags and complex markup languages a thing of the past – Sparkle's elegant text editing environment makes writing for the web feel as natural as your desktop word processor. Integrated tools for managing links, tracked phone numbers, and dynamic text snippets simplify repetitive tasks, and keep reusable content close at hand.
Keep your eyes on any device.
Sparkle delivers optimized experiences on any device and lets content creators view their pages exactly as they would appear on any phone, tablet or desktop — before they press "Publish". Your team can even make adjustments to improve the experience on any particular device, like cropping an image to fit a phone screen.
Medical Classification System
Create powerful connections.
At the core of Sparkle's healthcare content system is a powerful medical classification engine that establishes connections between conditions, treatments, services, and specialties. Developed by clinical experts, it can intelligently surface related resources, and help visitors make health decisions while connecting them to facilities and providers.
Sparkle makes it easy to build engaging, reusable forms to capture leads, add subscribers, or sign up new patients. Drag and drop form fields, labels and buttons, add validations, and easily set up confirmation pages. Form submissions are recorded through Sparkle's built-in analytics, and your new leads are automatically added to your CRM.
Take control of your content.
As your website grows in size and complexity, Sparkle has you covered. Share components between pages, and create managed variations while keeping everything else in sync. Insert Smart Snippets to update commonly used information across your entire site. And with Automatic Resource Detection, broken links will be a thing of the past.
Sparkle's full-featured news center and blogging system lets you author press releases, announcements and multi-media articles that attract and engage your community. Share your news with Facebook and Twitter audiences through seamless social media integration. Create branded blogs to promote health topics or build a place for leadership to showcase their ideas.
From your site to their inbox.
An integrated newsletter system allows editors to build fully automated, scheduled email campaigns with dynamic content from the news articles and events already published to your website. Add new subscribers by placing sign-up widgets into any call-to-action. Or simply let your CRM do all the work, with out-of-the-box support for Salesforce's Marketing Cloud and Email Studio.
Set up single events or recurring seminars and classes, using flexible scheduling tools and a host of features like speaker profiles, agendas and embedded maps for directions. The system supports online registration and payment, while sign-ups are tracked through our built-in analytics. Registrants can automatically be added as leads to your CRM, or entirely managed through Salesforce's event module.